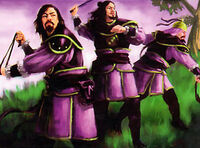 A Sling was a length of cord or sash with a pouch in the center for holding a stone. The wielder held both ends in one hand and whirled the sling to build momentum, finally releasing one end and flicking his wrist to unleash the stone. [1]
Unicorn Clan
Edit
This gaijin projectile weapon was brought by the Unicorn, who used it in army units. [2] [3] They hid this secret weapon wrappping their sling around their wrist or neck, wore it as a fake eyepatch, or otherwise used it to adorn their outfit. It was said that Dairya eyepatch was a sling. [4]
Sparrow Clan
Edit
The Sparrow were trained snipers, armed with the Sparrow's trademark weapon, the sling, that the Suzume first adopted from a passing Unicorn trader. [5]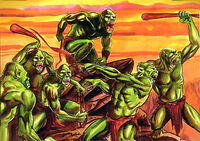 Goblins also had slingers. [6]
External Links
Edit
References
Ad blocker interference detected!
Wikia is a free-to-use site that makes money from advertising. We have a modified experience for viewers using ad blockers

Wikia is not accessible if you've made further modifications. Remove the custom ad blocker rule(s) and the page will load as expected.