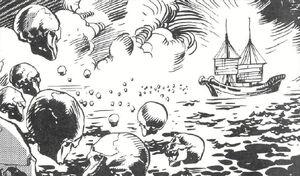 The Skull Tide Gaki were a sea-borne phenomenon in the Sea of Shadows where a boat or being on the ocean would become surrounded by a myriad cackling skulls.
The skulls would attempt to devour the boat and all occupants. Any people who succumbed to their predations were sent to Gaki-do. It was possible to escape them by swimming under the tide. [1]
Rise of Jigoku
Edit
In 1200 a Sea of Skulls under command of the Spider Clan, attacked the Rokugani forces near the Shrine to Yoritomo, which was desecrated. [2]
See also
Edit
References
Ad blocker interference detected!
Wikia is a free-to-use site that makes money from advertising. We have a modified experience for viewers using ad blockers

Wikia is not accessible if you've made further modifications. Remove the custom ad blocker rule(s) and the page will load as expected.