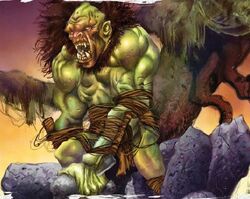 Skub was goblin created by Omoni. [1]
Appearance and Demeanor
Edit
Skub was unusually large, powerful, [1] wiser, and stronger than most bakemono. The others had swiftly learned to either follow its lead or quickly clear its path. [2]
Celestial Jitte
Edit
In 1158 Hakai ordered Skub to come to Otosan Uchi and to steal the pair of ebony Celestial Jitte. While the Test of the Jade Champion was being held Skub, magically invisible, reached the Celestial forge, killed the weaponsmith, Shiba Tsubeko, and stole the Jitte. Shiba Yoma found the corpse. [1]
Golden Obi of the Sun Goddess
Edit
In 1166 Skub discovered the Golden Obi of the Sun Goddess in the City of the Lost, and brought it to his master Omoni. [2]
Daigotsu's Back
Edit
This year Skub saw the return of Daigotsu to the City, which the Dark Lord retook from Iuchiban's control. [3]
Demon Uprising
Edit
During the Time of Demons many goblins followed the Oni Lord Kyoso no Oni and The Maw against Daigotsu, but Omoni's creation remained with the Dark Lord. [4]
External Links
Edit
References
Ad blocker interference detected!
Wikia is a free-to-use site that makes money from advertising. We have a modified experience for viewers using ad blockers

Wikia is not accessible if you've made further modifications. Remove the custom ad blocker rule(s) and the page will load as expected.