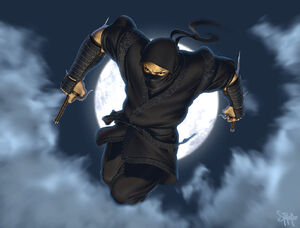 The Silent Blades was an Otokodate formed by little more than rank amateurs when it came to the arts of infiltration and assassination. The group managed to avoid cultivating a poor reputation despite their mediocrity. The Blades were actually pawns of a more secretive and skilled order known as Shadowed Steel, which was in turn a pawn of yet another unknown force. The Silent Blades were fodder for larger, more powerful, and more skilled groups, brought out when a scapegoat was necessary. [1]
Known Technique
Edit
External Links
Edit
References
↑ Enemies of the Empire, p. 201
Ad blocker interference detected!
Wikia is a free-to-use site that makes money from advertising. We have a modified experience for viewers using ad blockers

Wikia is not accessible if you've made further modifications. Remove the custom ad blocker rule(s) and the page will load as expected.