Ad blocker interference detected!
Wikia is a free-to-use site that makes money from advertising. We have a modified experience for viewers using ad blockers

Wikia is not accessible if you've made further modifications. Remove the custom ad blocker rule(s) and the page will load as expected.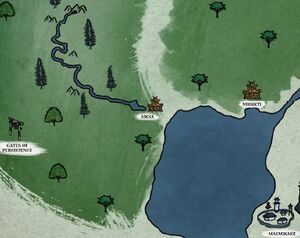 Siksa (N3), the City of Courage, was the home of the Asp Bloodline of the Naga. It was located within the lower portions of the Shinomen Mori, near the lake beside Sunda Mizu Mura. [1]
Bloodland Wars
Edit
After the Bloodland Wars their walls were covered in gold. [2] Within Siksa's walls was the source of the River of the Sky. [3]
Attacked by the Darkness
Edit
In 1132 the Lying Darkness's minions attacked Siksa. Resurrected Hida Yakamo and the Shasyahkar led their Naga army, crushing the enemy utterly. [4]
Awakening
Edit
Following the Great Sleep the city remained slightly active, due to the presence of Unicorn bushi and the few Asp still awake to protect their sleeping race. [5]
References
↑ Way of the Naga, p. 108
↑ Way of the Naga, p. 24
↑ Way of the Naga, p. 109
↑ Hidden Emperor, pp. 64-65
↑ Legend of the Five Rings; Third Edition Revised, p. 319
Sources Conflict
The sources relating to this article are in conflict with each other.
In Way of the Naga page 4 is misnamed as Siska. Oni no Pikachu 16:50, March 25, 2012 (UTC)