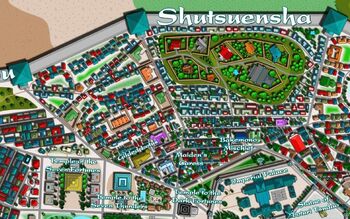 Shutsuensha District in the northwestern part of Toshi Ranbo was the Licensed Quarter of the Imperial City, [1] hosting many of the most prominent inns and geisha houses of the city. [2]
Governor
Edit
The governor used to be a glorified bureaucrat who maintained the security of the region and ensured the various establishments paid their taxes. It was normally held by an aging courtier, or the former general of a Imperial Legion who had been gravely wounded or was near retirement. [3]
The portion of the Shutsuensha District closest to the outer city wall was where the eta of Toshi Ranbo lived. The eta joined with heimin to form the so-called "fireman gangs" who patroled the streets, watching for and extinguishing fires. [4]
Known Locations
Edit
References
↑ The Atlas of Rokugan, p. 291
↑ The Atlas of Rokugan, p. 285
↑ Strongholds of the Empire, p. 123
↑ The Atlas of Rokugan, p. 292
Ad blocker interference detected!
Wikia is a free-to-use site that makes money from advertising. We have a modified experience for viewers using ad blockers

Wikia is not accessible if you've made further modifications. Remove the custom ad blocker rule(s) and the page will load as expected.