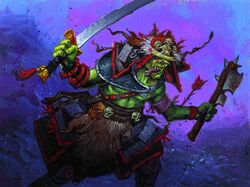 Shukku was a goblin berserker and a follower of Pokku. [1]
Purge of the Horiuchi
Edit
When the Horiuchi family got infected by the Plague during the Destroyer War, Empress Iweko I tasked the then outlawed Spider Clan to take up their banners once more and kill the infected to prevent a further spread of the Plague. This effectively meant the end to the Horiuchi family.
Shukku was among the goblins who were secretly brought to the Horiuchi by Daigotsu Shiraki and her small Spider force to do the deed. Thus the Horiuchi ended killed and burnt, possibly eaten by goblins, which was not known outside of the Spider Clan. [2]
External Links
Edit
References
Ad blocker interference detected!
Wikia is a free-to-use site that makes money from advertising. We have a modified experience for viewers using ad blockers

Wikia is not accessible if you've made further modifications. Remove the custom ad blocker rule(s) and the page will load as expected.