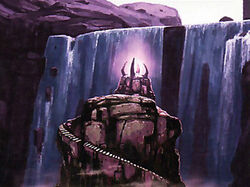 The Shrine to Jurojin was a large shrine to Jurojin, the Fortune of Longevity, located in a valley southwest of Shinomen Tower. A great waterfall overlooked a tall stone column ringed by a staircase carved from rock. At the column's peak was great stone claw bathed in bright, purple light. Those who gazed into the light of Jurojin were said to find the happiest memories they had, or even visions of the future. Four monks tended the shrine, blessed with long lives in contemplation. [1] It was considered of the oldest shrines in the Empire, which predated the Kami themselves. [2]
External Links
Edit
References
Ad blocker interference detected!
Wikia is a free-to-use site that makes money from advertising. We have a modified experience for viewers using ad blockers

Wikia is not accessible if you've made further modifications. Remove the custom ad blocker rule(s) and the page will load as expected.