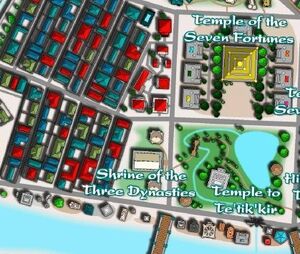 The Shrine of the Three Dynasties was built within the Ichidou District [1] in 1199 at Toshi Ranbo to honor the dynasties that had ruled the Emerald Empire, the Hantei Dynasty, the Toturi Dynasty, and the Iweko Dynasty. A number of ancestral spirits related to the Virtues of Bushido found residence there. [2] One of its known Guardian Spirits was Tsuruchi Nobumoto. [3]
Celebrations
Edit
The Daidoji Daimyo Daidoji Uji was elevated as the Fortune of Chugo, the Bushido Virtue of Duty [4] and another The Khan Moto Chagatai was elevated as Fortune of Yu, the Bushido Virtue of Courage, in a celebration held in the shrine. [5] Bayushi Yojiro, the late Scorpion Clan Champion, became the Bushido Virtue of Honesty. [3]
References
Ad blocker interference detected!
Wikia is a free-to-use site that makes money from advertising. We have a modified experience for viewers using ad blockers

Wikia is not accessible if you've made further modifications. Remove the custom ad blocker rule(s) and the page will load as expected.