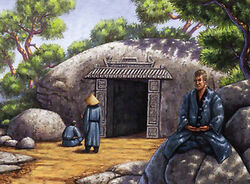 The Shrine of Stone was the dwell of the Fortune of Stone. [1] It was the only shrine of the Fortune and was located at the northern edge of what was Badger Clan territory. It was said only members of the Order of Stone knew the fortune's name, and why he decided to seclude himself so far from the Empire. [2]
Abandoned
Edit
The shrine was abandoned after the dead of the Fortune at the hands of Fu Leng in the Assault of the Celestial Heavens. Being in the wilderness was difficult to find and was used as a shelter or a place to be hidden. [3]
External Links
Edit
References
Ad blocker interference detected!
Wikia is a free-to-use site that makes money from advertising. We have a modified experience for viewers using ad blockers

Wikia is not accessible if you've made further modifications. Remove the custom ad blocker rule(s) and the page will load as expected.