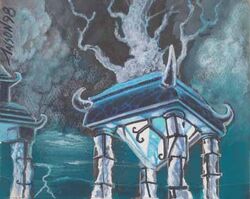 The Shrine of Osano-Wo was located near a patch of rich farmlands.
Battle at Fortune's Plain
Edit
In 554 the shrine was the location for the Battle at Fortune's Plain where first the Scorpion and Crab, then the Scorpion and Lion fought for control of the shrine and nearby farmlands.[1]
Battle of the Thundering Shrine
Edit
In 716 the border skirmish known as the Battle of the Thundering Shrine was fought between the Crab and Scorpion following the Battle of the Cresting Wave. The fierce storms and rocky terrain made the fighting extremely difficult for both sides. [2] Hida Yugira was one of the warriors of this day, and it was rumored that Yugira was actually Osano-Wo. [3]
External Links
Edit
References
Ad blocker interference detected!
Wikia is a free-to-use site that makes money from advertising. We have a modified experience for viewers using ad blockers

Wikia is not accessible if you've made further modifications. Remove the custom ad blocker rule(s) and the page will load as expected.