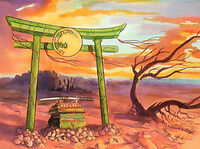 The Shrine of Ikoma Tsanuri was built to honor Ikoma Tsanuri.
Where Tsanuri Fell
Edit
It was located within the sight of the Kaiu Wall, in the place where Tsanuri fell. Tsanuri left Lion lands slightly defended and began a march with her Lion army to aid the Crab against the Lying Darkness in the War Against Shadow. [1]
Pilgrimage
Edit
Many Lion made their way to this shrine on a warrior pilgrimage, and other guarded it as punishment, to remember of what duty truly means. The Hiruma revered the shrine remembering the Lion who aided them to recover Shiro Hiruma. [1]
External Links
Edit
References