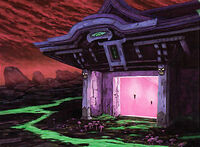 The Shrine of Fu Leng was built as a sacrifice altar in the City of the Lost. [1]
The shrine was completely black and rather than prayer flags the entrance way was adorned with dark stains and bits of charred items, long past recognition. The images on the walls were twisted and dark. The stains from the entranceway continued inside and there were scorch marks on the walls. The focus of the room was a high dais where the stains and burns were most concentrated near the sacrificial altar. [1]
Abandoned
Edit
In 1169 the Lost abandoned the City. The shrine was visited by Mirumoto Hirohisa and Mirumoto Katsutoshi, who retrieved the Ancestral Sword of the Hantei, which had been left behind by Daigotsu. [1]
External Links
Edit
References
Ad blocker interference detected!
Wikia is a free-to-use site that makes money from advertising. We have a modified experience for viewers using ad blockers

Wikia is not accessible if you've made further modifications. Remove the custom ad blocker rule(s) and the page will load as expected.