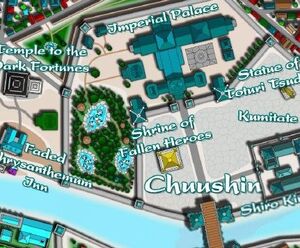 Akodo Arasou's Shrine was a stone shrine built at Toshi Ranbo to honor Akodo Arasou, the Lion Clan's heir who died in 1120 while attempting to retake the city from the Crane. Hidden to the public eye Arasou's armor laid there. [1] The srine was within the open ground known as Kumitate. Toturi III renamed it as the Shrine of the Fallen Heroes, devoted to the fallen heroes of the Empire. Arasou's name topped the list, followed by the names of those lost during the Fall of Otosan Uchi. [2]
Records of the Fallen
Edit
In 1199, the Imperial Regent Utaku Zo Sia declared at winter court that a new Shrine to the Honored Fallen would be built in the Imperial Colonies, in resemblance of the Shrine of Fallen Heroes. [3]
References
↑ Legacy of the Forge, p. 26
↑ Strongholds of the Empire, p. 118
Ad blocker interference detected!
Wikia is a free-to-use site that makes money from advertising. We have a modified experience for viewers using ad blockers

Wikia is not accessible if you've made further modifications. Remove the custom ad blocker rule(s) and the page will load as expected.