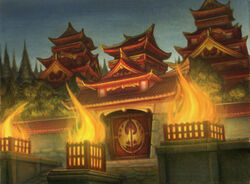 The Shrine of Champions was located in the Temple of Brilliant Rebirth.
There were numerous small shrines, each one dedicated to a Phoenix Clan Champion, with the sole exception of Shiba himself, who had his own dedicated shrine inside the walls of Shiro Shiba. [1] The shrines held a small portrait of the Champion, a written account of their lives, and any family relics. One of the largest shrines were dedicated to the Fortune of Rebirth, Shiba Tsukune. [2]
A small secluded chamber was dedicated to a few Champions who died in obscurity, usually because the burden of Soul of Shiba drove them mad. [1]
External Links
Edit
Sources Conflict
The sources relating to this article are in conflict with each other.
Masters of Magic claims Shiba's Shrine is located in the Shrine of Champions, against the rest of sources.Oni no Pikachu (talk) 20:32, May 6, 2014 (UTC)
References