Ad blocker interference detected!
Wikia is a free-to-use site that makes money from advertising. We have a modified experience for viewers using ad blockers

Wikia is not accessible if you've made further modifications. Remove the custom ad blocker rule(s) and the page will load as expected.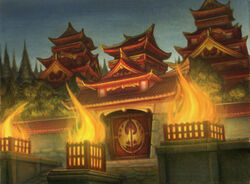 The Shrine of Champions was located an hour's travel east of Shiro Shiba. [1]
There were numerous small shrines, each one dedicated to a Phoenix Clan Champion, with the sole exception of Shiba himself, who had his own dedicated shrine inside the walls of Shiro Shiba. A small secluded chamber was dedicated to a few Champions who died in obscurity, usually because the burden of Soul of Shiba drove them mad [1]
External Links
Edit
Sources Conflict
The sources relating to this article are in conflict with each other.
Masters of Magic claims Shiba's Shrine is located in the Shrine of Champions, against the rest of sources. Oni no Pikachu (talk) 20:32, May 6, 2014 (UTC)
References