The Shrine of Agasha Kitsuki was built in Floating Village to honor the memory of Agasha Kitsuki, the founder of the Kitsuki family. [1]
Founding
Edit
The Phoenix wished to erect a shrine to Agasha Kitsuki on the spot where he died. The Dragon agreed, but requested the Phoenix to cede the land to them so that Kitsuki's shrine would be on Dragon soil. The Kitsuki family was so small that the Shiba refused and the Kitsuki withdrew their request. [1]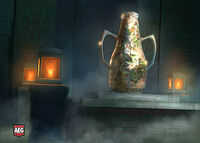 Agasha Kitsuki's ashes rested in the shrine, until they were retrieved by Daidoji Kirimi in 1171, to save them from desecration by the yobanjin Army of Fire. [2]
References
Ad blocker interference detected!
Wikia is a free-to-use site that makes money from advertising. We have a modified experience for viewers using ad blockers

Wikia is not accessible if you've made further modifications. Remove the custom ad blocker rule(s) and the page will load as expected.