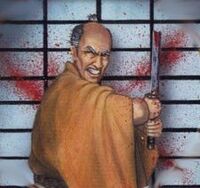 Ikoma Shotai was a diplomat of the Lion Clan. He became the ronin Shotai after he partly lost his mind.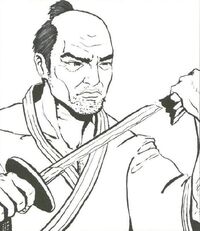 Shotai was once a great man. In his mind, he always thought he was. He was a diplomat and was appointed as the emissary to the Scorpion Clan by Akodo Arasou. He foiled many Scorpion plots and even started a few of his own. [1]
Saving the Hantei
Edit
In 1120 Shotai found that an Isawa traitor and an assassin had gained access to the Winter Court at Kyuden Isawa. Shotai killed the traitor and pursued the assassin when he ran into Lion Clan Champion Akodo Toturi. The two searched together for the assassin. [1]
When they found the assassin about to kill Hantei XXXVIII, the ninja turned his poison weapon on Toturi, but Shotai intervened, taking the strike. Shotai healed from the poison, but his mind was never the same. Only when fighting would he become himself, but every man he fought was an "accursed Scorpion", every man at his side was "Toturi-sama" and Toturi was "Hantei". Toturi put him in the care of the monks of the Brotherhood of Shinsei near Shiro Akodo and would visit him regularly. [2]
When Toturi became an outcast, the visits to Shotai stopped. A monk told Shotai he had heard that Toturi found a new home in the lands of the Dragon Clan. Shotai replied, "The Hantei has returned? Is it time for a new empire?" Shortly afterward, Shotai escaped from the monastery. [3]
Toturi I
Edit
Toturi kept Shotai from harm during the Clan War, risking his own life. When he became Emperor Toturi I, Shotai was still to his side. [4]
See also
Edit
External Links
Edit
References
Ad blocker interference detected!
Wikia is a free-to-use site that makes money from advertising. We have a modified experience for viewers using ad blockers

Wikia is not accessible if you've made further modifications. Remove the custom ad blocker rule(s) and the page will load as expected.