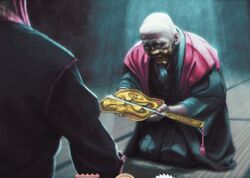 Shosuro Yasumasa was a courtier of the Scorpion Clan.
Nitoshi's Advisor
Edit
Yasumasa was advisor to the Scorpion Clan Champion Bayushi Nitoshi. In 1199 Lion and Scorpion skirmishes over the Shamate Pass escalated, and the Lion petitioned to wage war on the Scorpion. Yasumasa devised a plan that would cause the Lion to react rather than to think, a sneak attack to the Kitsu Tombs. [1] He also presented to his Lord the War Fan of Akodo Uehara, who had been killed in the Colonies by Scorpion agents. [2]
External Links
Edit
References
Ad blocker interference detected!
Wikia is a free-to-use site that makes money from advertising. We have a modified experience for viewers using ad blockers

Wikia is not accessible if you've made further modifications. Remove the custom ad blocker rule(s) and the page will load as expected.