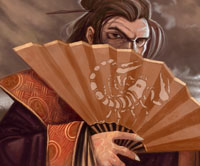 Shosuro Uyeda was a courtier of the Scorpion Clan.
Arranging a Marriage
Edit
In  1170 Uyeda visited Kyuden Doji alongside with Bayushi Kurumi and they met Doji Nagori and his wife Doji Jorihime. As part of negotiations concerning trade on the River of Gold, the courtiers arranged a marriage between both clans, Bayushi Hisoka with Doji Hibariko, Doji Ayano's assistant. [1]
Chosen of Ryoshun
Edit
Uyeda, along with several others, were summoned by Ryoshun to Meido to be chosen as followers to either the Voice of the Jade Sun or the Voice of the Obsidian Moon. The Tenth Kami warned the Emerald Empire was to be tested, tested as it had never been before. They must prepare mankind for the trials ahead, and to remind him of the favor of the Celestial Heavens. Each was gifted with an item crafted from the essence of one Spirit Realm to help them in their service to the Voices. [2] Uyeda chose the Talisman of Sakkaku. [3]
External Links
Edit
References