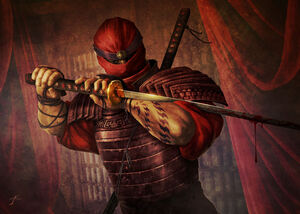 Shosuro Tsuji was a ninja of the Scorpion Clan.
A contemporary of Shosuro Aroru and Bayushi Keirei, Tsuji was brute force when other subtle means failed. He slaughtered targets, sending clear messages to those who had earned the clan's disfavor. Aroru's targets seemed to die of natural causes, but Tsuji's were clearly victims of violence. [1]
External Links
Edit
References
Ad blocker interference detected!
Wikia is a free-to-use site that makes money from advertising. We have a modified experience for viewers using ad blockers

Wikia is not accessible if you've made further modifications. Remove the custom ad blocker rule(s) and the page will load as expected.