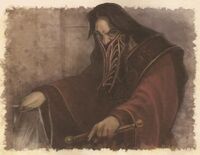 Shosuro Takuro was a courtier of the Scorpion who worked under the command of Bayushi Nomen. [1]
Winter Court - 1170
Edit
In the winter 1170-1171 Takuro attended winter court at Kyuden Bayushi. When in 1171 Asako Kanta told an anonymous Spider monk had brought him dozens of scrolls recovered from Otosan Uchi, Takuro claimed it came from a dangerous source, and requested them for Yogo scrutiny. The Imperial Chancellor Bayushi Hisoka remained the scrolls in Phoenix hands after Moshi Minami, a Jade Legionnaire, confirmed they bore no taint. [2]
External Links
Edit
References
Ad blocker interference detected!
Wikia is a free-to-use site that makes money from advertising. We have a modified experience for viewers using ad blockers

Wikia is not accessible if you've made further modifications. Remove the custom ad blocker rule(s) and the page will load as expected.