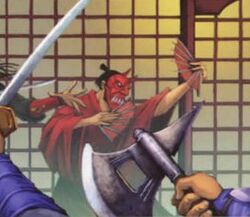 Shosuro Takuma was an actor and ninja of the Scorpion Clan.
Plotting against the Great Bear
Edit
He was involved in one of several unsuccessful attempts on Kisada's life. [1]
Destroyer War
Edit
In 1173 during the Destroyer War, he was in charge of overseeing the Shrine of the Shadow's Eye. Already not too impressed by the battle plan of the Crane general in charge of the defense, Doji Nakaru, he heard from him that his men had discovered a secret cache of scrolls during the evacuation. He assassinated Nakaru and impersonated him to take care of the defenses himself and give the scrolls back to the Scorpion Clan. [2]
External Links
Edit
References