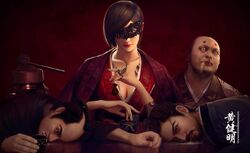 Shosuro Sakura was an alchemist, Poison Master, ninja, seductress, and duelist of the Scorpion Clan.
Coronation of Iweko II
Edit
Sakura was part of the Scorpion delegation who attended the coronation of Iweko Seiken as Iweko II. She poisoned Yoritomo Goichi, who died in front of the Imperial Court. His death was a clear message to the Mantis, who had brazenly interfered in Scorpion affairs. To cover up appearances, the Scorpion had a document forged which incriminated one of Goichi's underling, but they were exposed as a forgery by Kitsuki Kira, who was investigating the murder. [1]
External Links
Edit
References
Ad blocker interference detected!
Wikia is a free-to-use site that makes money from advertising. We have a modified experience for viewers using ad blockers

Wikia is not accessible if you've made further modifications. Remove the custom ad blocker rule(s) and the page will load as expected.