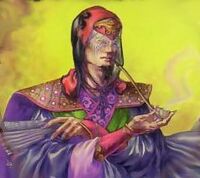 Shosuro Sadato was an emissary of the Scorpion Clan and the ambassador to the Imperial Court prior to the Scorpion Coup. [1]
Demeanor
Edit
Sadato had a wide knowledge on laws, and how to circunvent them. He was a natural orator, and a formidable political opponent. [1]
Loyalty questioned
Edit
Bayushi Kyoto assigned Shosuro Tage to the Scorpion Embassy in Otosan Uchi, to ensure the loyalty of Sadato prior to the Scorpion Coup. [2]
See also
Edit
External Links
Edit
References
↑ Otosan Uchi, Book 2, The Forbidden City: A Walking Tour, p. 27
Ad blocker interference detected!
Wikia is a free-to-use site that makes money from advertising. We have a modified experience for viewers using ad blockers

Wikia is not accessible if you've made further modifications. Remove the custom ad blocker rule(s) and the page will load as expected.