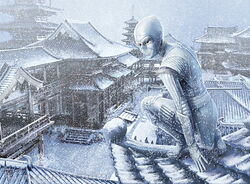 Shosuro Ritsuko was a ninja and actor of the Scorpion Clan.
Assassin
Edit
Some call her the Winter phantom, as she had killed as many as the winter itself. [1]
Destroyer War
Edit
In 1172 during the Destroyer War the Scorpion were defending their homeland. Ritsuko suggested a plan to the Lion Clan Champion Akodo Shigetoshi to retake a village with tactical value in these provinces. Ritsuko and their man took care of the sentries and the Lion forces led by Ikoma Otemi defeated the Destroyers. [2]
External Links
Edit
References