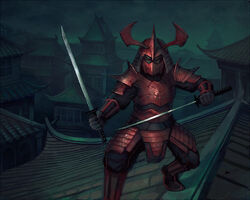 Shosuro Ritoru was a bushi, kensai, and yojimbo of the Scorpion. He was a student of the Dark Sword of Bitter Lies, and considered a paragon of Bushido.
Appearance
Edit
Ritoru was of small height, leading his opponents to wrongly understimated him. [1]
Ritoru was appointed yojimbo to Bayushi Shibata, Head of the Imperial Explorers. [2]
External Links
Edit
References