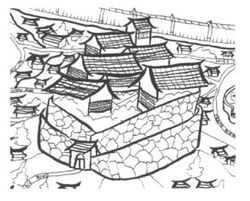 The Shosuro Palace sat in the summit of a hill in the Old Section of Ryoko Owari Toshi. It was a simple structure from the outside, but inside were endless passages, connecting rooms, trick doors, hidden rooms, and subterranean chambers. [1] A frequent host for regional winter courts the building overlooked all of Ryoko Owari and was second in size only to the Temple of Daikoku. [2] It was the first Governor's residence. The top of the palace was the highest spot in Ryoko Owari. [3]
Destroyed
Edit
It was razed to the ground during the Crab Invasion of Scorpion lands in the 7th century, shortly before the Crab released the city. The returned governor Shosuro Sanekata only could afford a modest structure of wood and brick. The newest additions made the central house looked shabby by comparison. It was destroyed during the short Lion occupation, but some said the returning Scorpion troops destroyed it to make a new third Palace. [3]
Destroyed Again
Edit
During the Clan War in the 12th century the Crab again burned the palace to the ground, and was left untouched for years by the Unicorn. The secret chambers beneath the mansion served as a sort of way station for the Scorpion who went into hiding. [4]
The governor's residence was rebuilt and modified somewhat by Unicorn craftsmen to better reflect their new controllers. The subtle changes in architecture and decoration were largely gaijin in nature, a fact that maddened the city's Scorpion citizens to no end. [4]
References
Ad blocker interference detected!
Wikia is a free-to-use site that makes money from advertising. We have a modified experience for viewers using ad blockers

Wikia is not accessible if you've made further modifications. Remove the custom ad blocker rule(s) and the page will load as expected.