Shosuro Ohba 
 
Born:
Unknown 
Died:
1173, month of the Hare
People
Shosuro Ohba was a ninja of the Scorpion Clan.
Jimen's agent
Edit
Iweko's Journals
Edit
During the War of Dark Fire, Shosuro Sogetsu and Ohba were tasked by the Emerald Champion Shosuro Jimen to find and secure the journals of Kitsuki Iweko from her time prior to her ascension to the throne. The pair infiltrated Shiro Kitsuki during the Siege of Shiro Kitsuki. [1]
Seeking Noritoshi
Edit
When Jimen sent his agents to find Kakita Noritoshi and his son, Sogetsu doubted the true behind his Lord's orders, [2] but Ohba was convinced to follow his Lord's orders, even it meant to kill Noritoshi's son, still a boy. [3]
In the month of the Hare of 1173, [4] following the tracks of Noritoshi Sogetsu and Ohba arrived to Shutai, in the middle of the Destroyer War offensive at Scorpion lands. Jimen was there to defend the village with the Imperial Legions against the impending attack of the Destroyers. Ohba and Sogetsu sneaked in the house Noritoshi was hidden with his son, but the Kakita Daimyo managed to kill Ohba and deadly injured Sogetsu. [5]
External Links
Edit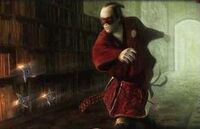 References
Ad blocker interference detected!
Wikia is a free-to-use site that makes money from advertising. We have a modified experience for viewers using ad blockers

Wikia is not accessible if you've made further modifications. Remove the custom ad blocker rule(s) and the page will load as expected.