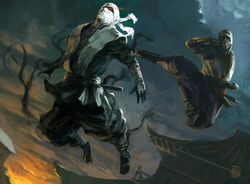 Shosuro Nobu was a ninja of the Scorpion Clan.
Shadow Dragon
Edit
In 1198 Shosuro Nobu and Soshi Kodanshi joined Shosuro Hawado in the Colonies, with the mission to take prisoner one of the minions of the Shadow Dragon. Their lord wished to reveal the Spider's treason to the Empress and expose their alliance with the Shadow Dragon and the remnants of the Lying Darkness. This information must be held until the Scorpion were certain the Spider could not disavow or deny the connection. During a fight with several Goju the corrupted Dragon appeared itself, and bargained with Hawado to exchange information through a meeting with the Shadow Dragon's commander. [1]
Marked by the Goju
Edit
One of the Goju, Goju Bunoro was obsessed with Nobu, but he was too busy with important duties to dispatch him. Nobu reported to Shosuro Konishi about the Spider. [2]
External Links
Edit
References