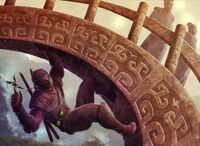 Shosuro Nitsu was a ninja of the Scorpion Clan.
In 1198 Nitsu was appointed by the Shosuro Daimyo Shosuro Aroru as the bodyguard to Bayushi Himaru, a tactician and scholar of Naga matters. They entered into a Naga temple in the Shinomen Mori to learn about the incidents involving every person within Rokugan who had a direct connection with the Naga, who had vanished or died. Himaru found scrolls which told a Black Pearl had been sent away by the Qatol before the second Great Sleep of the Naga race because he feared it. They were attacked by Naga and run for their lives, but Himaru had been dead wounded and died. Nitsu requested seppuku for his failure, but Aroru tasked him to find the lost scrolls. [1]
Black Pearl
Edit
The scrolls were found and passed to the Phoenix. Asako Hitsuko found that a black pearl was somewhere within the sea that could have been the source of these events related to the Naga. The Phoenix discreetly deployed a fleet of vessels to begin searching it. Aroru disliked the idea to allow them the control of such nemuranai and countered their efforts. He moved to Broken Wave City and spread in the Mantis ears that the purpose of the fleet could harm their interests. [1]
External Links
Edit
References
Ad blocker interference detected!
Wikia is a free-to-use site that makes money from advertising. We have a modified experience for viewers using ad blockers

Wikia is not accessible if you've made further modifications. Remove the custom ad blocker rule(s) and the page will load as expected.