Shosuro Nishu was a ninja of the Scorpion Clan.
Infiltration
Edit
All attempts at significant infiltration of the Destroyer lines made by the Scorpion had failed. In 1173 Nishu and his cousin had been selected because of their great physical similarities, and that their weights were almost completely identical. The ironclads were razing Remote Village to the ground and the couple were hidden, waiting until the force of Kali-Ma passed. When the night came they were uncovered by a jinn. Nishu could escape after his cousin sacrificed himself and returned to inform of the new being allied with the Destroyer. [1]
Razed to the ground
Edit
After the end of the Destroyer War the Remote Village was visited by the Scorpion Clan Champion Bayushi Miyako in 1174. There he appointed as the new Shosuro Daimyo to Shosuro Aroru, and her first order was to destroy all the remains of the village. Miyako did not risk any kind of contamination with the mysterious creature Nishu saw. [2]
Shadow-Thing
Edit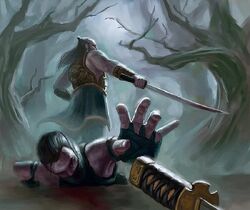 The exact fate of Nishu was unknown but he was presumed dead before the end of the 12th century. [3] In 1199 Nishu killed Hida Osote in the Colonies [4] when the shadow-ting he had become attempted to kill the new Grand Master of the Elements Naka Mahatsu. [5]
External Links
Edit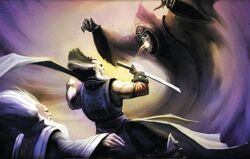 References
Ad blocker interference detected!
Wikia is a free-to-use site that makes money from advertising. We have a modified experience for viewers using ad blockers

Wikia is not accessible if you've made further modifications. Remove the custom ad blocker rule(s) and the page will load as expected.