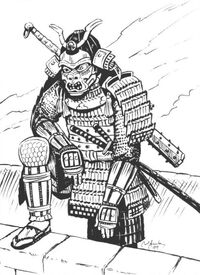 Shosuro Niobu, the "Little Scorpion", was a courtier of the Scorpion Clan.
Courtier
Edit
Niobu was trained at the Bayushi Courtier school, and after his gempukku was sent to escort Yogo Asami at Winter Court. A drunk Crab spoke ill of the Scorpion, and Niobu threatened that he would a shorter life in court than he would at the Kaiu Wall. Niobu's own words were twisted by a courtier who then arranged for the Crab to spend one year at Court while Niobu was sent to the wall. [1]
Kaiu Wall
Edit
In less than eight months on the wall, Niobu had lost several fingers, an eye and a few teeth. The Crab and their ancestral duty had gained his respect, who called him the "Little Scorpion". [1]
References