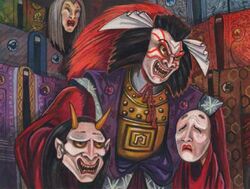 Shosuro Miyo was an actor of the Scorpion Clan.
Miyo had unparalleled first-hand experience in the art of deceiving others. None truly knew whether the old actor was male or female. [1]
Matsu Uona
Edit
During ten years he was disguised as a samurai-ko known as the Lion's Pride Matsu Uona, and he even participated in several battles under her identity. The commander of Kaeru Toshi became a good friend of the supposed Matsu. Miyo knew he had spent too much time in the same role, a one he was enjoying too much. Matsu Uona disappeared and Miyo returned home. [1]
Governor
Edit
After his return Miyo became the leader of Painted City, a place he lived on and off for sixty years. [1]
External Links
Edit
References
Ad blocker interference detected!
Wikia is a free-to-use site that makes money from advertising. We have a modified experience for viewers using ad blockers

Wikia is not accessible if you've made further modifications. Remove the custom ad blocker rule(s) and the page will load as expected.