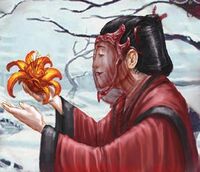 Shosuro Mikado was a courtier and ninja of the Scorpion Clan.
Special powers
Edit
Somehow Mikado had special powers. She was able to sense who was the holder of an item, and who had touched it. She was very valuable to perform investigations with few information available. [1]
The Hunt
Edit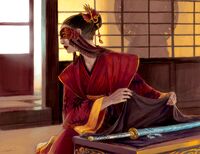 In 1172 during the Destroyer War Mikado was tasked with a mission by the Shosuro Daimyo Shosuro Toson. During a Destroyers ambush, which Toson did not believe was casual, Soshi Idaurin and her group had been slain. Mikado had to confirm which was the motivation behind the ambush. Toson told an item had been lost, and he should know if the Scorpion had a leak or the gaijin demons could sense it, where the item was, and who had it. Despite this complete request he did not inform what the item was. Mikado got access to the items recovered from the fight, and she recognized a scrap of cloth as belonging to the late Bayushi Minoru, and the last who touched it was Bayushi Kurumi. [1]
External Links
Edit
References
Ad blocker interference detected!
Wikia is a free-to-use site that makes money from advertising. We have a modified experience for viewers using ad blockers

Wikia is not accessible if you've made further modifications. Remove the custom ad blocker rule(s) and the page will load as expected.