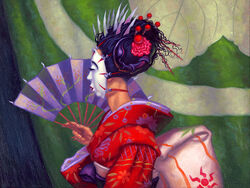 Shosuro Madoka was a rumormonger courtier of the Scorpion Clan.
Winter Court - 1168
Edit
In 1168 Madoka had word of Winter Court at Kyuden Otomo which promptly passed to Scorpion Clan Champion Bayushi Paneki. From other sources she knew the Unicorn Clan was fighting on two fronts, against the Nezumi in the Winter War and the Lion in the Khan's Defiance. The Scorpion had confirmation that they were moving through Lion lands toward Toshi Ranbo, the Imperial City. Paneki sent Madoka to discover the ultimate intentions of the Khan Moto Chagatai. [1]
External Links
Edit
References
Ad blocker interference detected!
Wikia is a free-to-use site that makes money from advertising. We have a modified experience for viewers using ad blockers

Wikia is not accessible if you've made further modifications. Remove the custom ad blocker rule(s) and the page will load as expected.