Shosuro Kikamono was a Shosuro Infiltrator of the Scorpion Clan.
Yasuki Heikichi
Edit
Under the guise of Yasuki Heikichi, Kikamono pretended to be a Crab Clan samurai who joined the Crane Clan when Yasuki Hachi became the Yasuki family daimyo. [1] He had been sent by his Shosuro elders to monitor the growing conflict between the Crab and the Crane, but seized the opportunity of the assumption of Yasuki Hachi as the new family daimyo to improve his position, and became one of the few Crab Yasuki to swear fealty to the Crane. [2]
Supporting Kaneka
Edit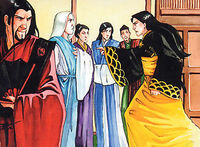 During the Four Winds era Toturi Tsudao was very angry with Heikichi for the support he gave to Akodo Kaneka, Tsudao's half-brother, who also claimed to be the legitimate heir to the Imperial Throne. [3]
References
Ad blocker interference detected!
Wikia is a free-to-use site that makes money from advertising. We have a modified experience for viewers using ad blockers

Wikia is not accessible if you've made further modifications. Remove the custom ad blocker rule(s) and the page will load as expected.