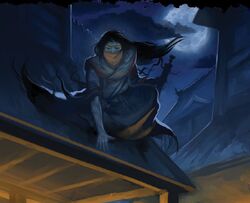 Shosuro Kiemon was a shugenja of the Scorpion Clan and a member of the Kuroiban.
Investigating the Spider
Edit
His missions included tracking the so called "Spider Clan". [1] In 1170 he informed the Yogo Daimyo Yogo Koji that the members of the Spider Clan had disappeared of every place the Scorpion had found them. They still did not know to what extent the Lost had infiltrated these Spider samurai, or if the two groups were entirely the same. Yogo Rieko guessed they would the step previous to an attack, and the Scorpion would be the likely target. Koji ordered to increase the bodyguards of the most prominent Scorpion samurai, using Kuroiban members if available. [2]
External Links
Edit
References
Ad blocker interference detected!
Wikia is a free-to-use site that makes money from advertising. We have a modified experience for viewers using ad blockers

Wikia is not accessible if you've made further modifications. Remove the custom ad blocker rule(s) and the page will load as expected.