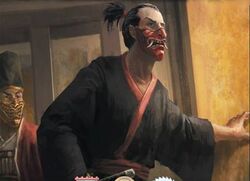 Shosuro Hotaka was a courtier of the Scorpion Clan.
Imperial Governor
Edit
Hotaka was instrumental in the escape of the Imperial Governor of the Colonies Otomo Suikihime from the Siege of the Second City. After Suikihime was restored in her seat of power, Hotaka gained her favors. Unbeknownst to the Governor, Hotaka had been merely following orders. [1]
Shosuro Spy Net
Edit
Hotaka worked alongside Shosuro Tosaku to get information from many sources. [2]
External Links
Edit
References