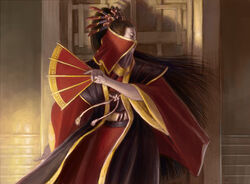 Shosuro Dazai was an air shugenja and courtier in the service of the Scorpion Clan. She was known as 'the Scorpion who speaks only the truth.'
Enlightenment
Edit
Between her own ability to see through the veil of others' deceit and the whispers that the kami brought to her, deception was nothing more than a pathetic ruse. The truth could not be escaped, but it could be molded into a weapon and wielded against those of weak minds. A lifetime of truth gave Dazai unique insights into the world and those within it, and she became deadlier for it. [1]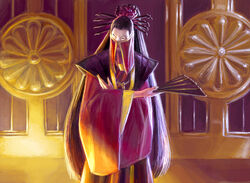 External Links
Edit
References
Ad blocker interference detected!
Wikia is a free-to-use site that makes money from advertising. We have a modified experience for viewers using ad blockers

Wikia is not accessible if you've made further modifications. Remove the custom ad blocker rule(s) and the page will load as expected.