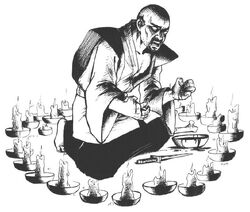 Shosuro Chizaro was a Scorpion bandit and Maho-tsukai at Ryoko Owari Toshi. [1]
Menaced by cultists
Edit
In 1120 his bandits assaulted a merchant caravan, filled with some crates of things for the incoming Bon Festival, as costumes or masks. Chizaro sold the loot to several of his best buyers, Whisper, Shinjo Sanefusa, and Doji Juzo. This day Moon cultists met him and requested to find a specific box of the assaulted caravan, upon menace of death. [2]
Summoning an Oni
Edit
Chizaro feared for his life and bargained with an oni, Chizaro no Oni. He sent it to find the box. [2] The items the cultists were seeking were Porcelain Masks that could raise an undead army, [3] and between them also was the Fourth Mask of Iuchiban. [4]
His hideout, an abandoned Shosuro warehouse, was discovered by a group of samurai who had been tracking down the appearance of the demon in the city. [5] Chizaro was a shadow of the man he once was. His sanity had been left him after the oni summoning, he was not able to remember his name, a name which soon would not be his own. [6]
References
Ad blocker interference detected!
Wikia is a free-to-use site that makes money from advertising. We have a modified experience for viewers using ad blockers

Wikia is not accessible if you've made further modifications. Remove the custom ad blocker rule(s) and the page will load as expected.