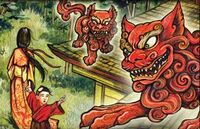 Shisa were a variation of Fu Lions which were usually positioned on top of houses. They were commonly inhabited by mischevious, but not evil, spirits, acting out in many ways, varying from guardians to vandals. They were fickle in nature and their intentions could change multiple times in the span of a single afternoon. [1]
References
Ad blocker interference detected!
Wikia is a free-to-use site that makes money from advertising. We have a modified experience for viewers using ad blockers

Wikia is not accessible if you've made further modifications. Remove the custom ad blocker rule(s) and the page will load as expected.