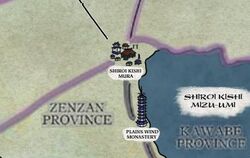 White Shore Village (U13) in the Kawabe province [1] was located just west of the White Shore Lake. It was a rather small fishing village, supplying the Unicorn Clan with both fresh and dried fish. [2]
Appearance
Edit
It was a place of otherworldly beauty. The crystal waters of White Shore Lake lapped onto the pristine white sands of Shiroi Kishi Mura, creating a great spectacle. Its serene beauty attracted many artisans, and the village was in fact home to the greatest art community in all Unicorn territory. To preserve the charm and artistic and commercial value of the village, the provincial governor allowed very few homes to be built there. The House of Beauty and Grace was a teahouse visited by artisans and their patrons. [3]
Matsu Tsuko led the victory of the Lion army against the Unicorn in the Battle of White Shore Plain. [4]
Known Headman
Edit
Sources Conflict
The sources relating to this article are in conflict with each other.
Secrets of the Unicorn named it Shiro Kishi Mura. Oni no Pikachu (talk) 09:31, March 29, 2013 (UTC)
References