White Shore Plain (S) in the Ikoku province [1] was the plain where the Battle of White Shore Plain was fought in 815 following the Return of the Ki-Rin. The Scorpion were defeated by the Unicorn, and if a Unicorn was asked why they won he would reply that it was because the Scorpion thought they were weak uneducated barbarians. If a Scorpion was asked about this they would concede the point and quickly change the subject. [2]
Stewardship
Edit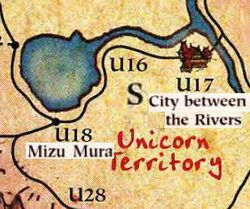 Toturi Kaede granted stewardship of White Shore Plain to the Unicorn to bless the marriage of Seppun Kossori and Shinjo Shirasu's son, Shinjo Nayaru. [3]
Lords of the Dead
Edit
Within sight of Shiro Moto was built the Shi-Tien Yen-Wang Temple, the first temple that worshipped the Lords of the Death. [4]
External Links
Edit
References
Ad blocker interference detected!
Wikia is a free-to-use site that makes money from advertising. We have a modified experience for viewers using ad blockers

Wikia is not accessible if you've made further modifications. Remove the custom ad blocker rule(s) and the page will load as expected.