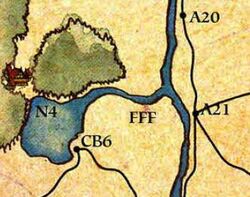 The White Gold River (FFF) began in the Firefly River [1] and spilled into Lake of Cherry Blossom Snow and was named for the white rocks that lined the riverbed and the gold leaved that fall into the river in autumn. [2] [3]
Festivals
Edit
During many festivals monks and samurai could be found along these shores, fasting and meditating. [2] [3]
Location
Edit
The river was located along the Crab and Hare border. [3]
Destroyer War
Edit
In 1172 the Destroyers reached the river, which gave them a natural defence against the Empire forces. [4]
References
Ad blocker interference detected!
Wikia is a free-to-use site that makes money from advertising. We have a modified experience for viewers using ad blockers

Wikia is not accessible if you've made further modifications. Remove the custom ad blocker rule(s) and the page will load as expected.