Ad blocker interference detected!
Wikia is a free-to-use site that makes money from advertising. We have a modified experience for viewers using ad blockers

Wikia is not accessible if you've made further modifications. Remove the custom ad blocker rule(s) and the page will load as expected.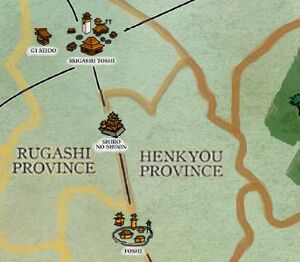 The Castle of the Dead [1] was locate din the Henkyou province. [2] The obsolete military base near the Lion village of Rengai Mura was also the unofficial headquarters of the Lion Deathseekers. [3] [4]
Occupied by the Deathseekers
Edit
The minor military outpost of the Akodo family was a day's ride west of Kokoro Nezuban Mori. It fell into disuse after the Akodo were disbanded. The facility became a haunt for the suddenly increased numbers of Deathseekers, which soon became known as Shiro no Shinin, the Castle of the Dead, and the dojo of these dishonored samurai, was located there. [5]
Sources Conflict
The sources relating to this article are in conflict with each other.
The castle was called Shiro no Shinin in Legend of the Five Rings Third Edition page 293 Oni no Pikachu (talk) 15:25, November 25, 2012 (UTC)
References
↑ Secrets of the Lion, p. 21
↑ The Atlas of Rokugan, p. 82
↑ Legend of the Five Rings; Third Edition, p. 293
↑ Masters of War, p. 99
↑ Secrets of the Lion, pp. 21-22