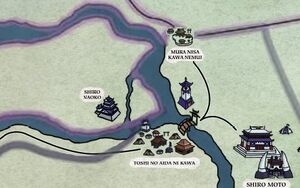 Shiro Naoko had been a Lion outpost southeast of Shiro Utaku Shojo outpost before it was converted into the small ancestral home of the Naoko family, after the Return of the Ki-Rin. The building was covered with ornaments and fixtures unseen outside of Unicorn lands. Shiro Naoko was far from major roads, because the Naoko family preferred to follow the Ujik-hai customs, wandering across the Unicorn lands in groups, living in camps. Thus, Shiro Naoko was inhabited only by the retired or by Naoko diplomats and functionaries. [1]
References
↑ Secrets of the Unicorn, p. 60
Ad blocker interference detected!
Wikia is a free-to-use site that makes money from advertising. We have a modified experience for viewers using ad blockers

Wikia is not accessible if you've made further modifications. Remove the custom ad blocker rule(s) and the page will load as expected.