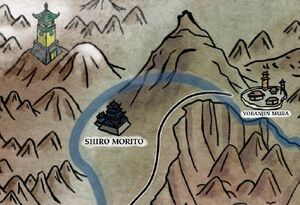 Shiro Morito (A27) was the ancestral home of the Ox Clan. [1]
In 1131 Morito again left the Unicorn, this time voluntarily, to stake a claim to uncontrolled land claimed by the Phoenix Clan. Morito claimed that since the Phoenix could no longer protect the land he could take them. The Phoenix protested, [2] but Morito constructed a castle near the Ki-Rin's Shrine [3] and such good defence determined the Phoenix did not to pursue the matter. [2]
Appearance
Edit
Sequestered deep in the mountains of northern Rokugan, the castle was one of the Empire's newer fortresses, betraying a great deal of Unicorn influence in its architecture. It was named for the founder of the clan, Morito. [4] Shiro Morito was large, very stark and foreboding in its appearance, with enormous granaries and armories. [5] It contained what was likely the largest stable in the Empire outside the Unicorn Clan provinces, a large dojo and a court chamber. [6] The Ox also usually hosted an ambassador of the Minor Clan Alliance. [7]
Founding
Edit
For his valor during the War of Spirits Morito was granted lands in the northern regions of the Heigen Ryo Kokoro. Morito addopted his nickname given to him by his fellow ronin and named the minor clan the Ox Clan. [1] In truth the entire purpose of the clan and its castle was to protect the Hidden Temple of the Kolat. Many members of the Ox Clan were members of the Kolat's Steel Sect. [4]
War of Dark Fire
Edit
In 1170 the yobanjin Army of Fire attacked the castle in the Battle of Shiro Morito. With the aid of three Imperial Legions they repelled the invaders. [8]
References
↑ Clan Letter to the Mantis #8 (Imperial Herald v3 #4)
↑ Fealty and Freedom, p. 78
↑ Legend of the Five Rings; Fourth Edition, p. 362
↑ Secrets of the Empire, p. 80
Ad blocker interference detected!
Wikia is a free-to-use site that makes money from advertising. We have a modified experience for viewers using ad blockers

Wikia is not accessible if you've made further modifications. Remove the custom ad blocker rule(s) and the page will load as expected.