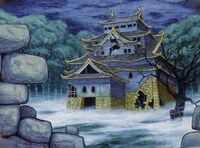 Mori Kage Castle was the castle of Forest Shadow City. The castle lose its glory as the most opulent stronghold of the Phoenix after Morikage Toshi was cursed in 782. It was quickly abandoned by the Phoenix Clan. The crawling vines which shattered the stone foundation of the castle cling with unnatural endurance. The outer walls have faded and cracked where they were visible through the choking vines, and the wood trim had rotted away. The castle became a place where the Darkness were housed. [1]
Hidden Emperor
Edit
Toturi I, who had been kidnapped by the Shadows, was found in 1132 in the ruins of the castle by Unicorn scouts. Otaku Kamoko brought the weak and sickened Emperor to Otosan Uchi. [2] [3]
Cult of the Dead Moon
Edit
In 1150 the Seikitsu Pass was opened [4] and the Cult of the Dead Moon drew away from the Seikitsu Mountains due to the activity of Lord Sun. Its leader Bunrakuken moved the cultists to Shiro Mori Kage, where they made their new home within the cursed ruins of Mori Kage and begun their rituals anew. [5]
External Links
Edit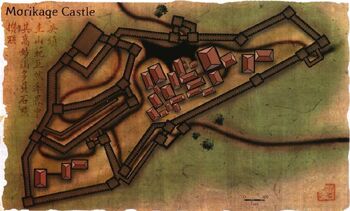 References
Ad blocker interference detected!
Wikia is a free-to-use site that makes money from advertising. We have a modified experience for viewers using ad blockers

Wikia is not accessible if you've made further modifications. Remove the custom ad blocker rule(s) and the page will load as expected.