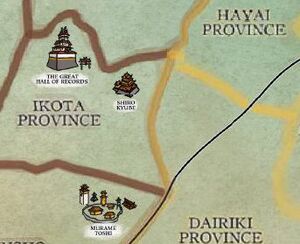 Shiro Kyube was the ancestral castle of the Hosokawa family, and was named for the first Hosokawa, Ikoma Kyube. It served as a waypoint between many of the other more important sites within the Ikoma lands. There were several stables and its largest structure was a library. Near the castle several natural resources were worked, as fertile farmland and scattered deposits of gold and minerals. They were used to fund the Hosokawa's endless expeditions. [1] It was the largest structure in Ikota province until the construction of the Great Hall of Records in the 12th century. The heimin of this village were literate, skilled in scroll making. [2]
References
Ad blocker interference detected!
Wikia is a free-to-use site that makes money from advertising. We have a modified experience for viewers using ad blockers

Wikia is not accessible if you've made further modifications. Remove the custom ad blocker rule(s) and the page will load as expected.