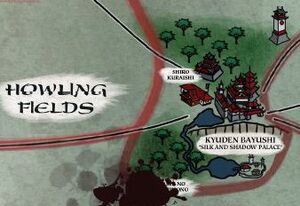 Shiro Kuraishi was the ancestral home of the Rokugo family. It was located two hours' ride north of Kyuden Bayushi. The small castle was hidden by forests and natural features, and it did not appear on any map, as the Rokugo rarely had open relations with anyone other than their Bayushi lords. Hidden sentries guarded all paths leading to the castle to take care of anyone entering their lands without permission of the Bayushi. Loyal peasants populated a small village near the castle. [1]
References
↑ Secrets of the Scorpion, p. 23
Ad blocker interference detected!
Wikia is a free-to-use site that makes money from advertising. We have a modified experience for viewers using ad blockers

Wikia is not accessible if you've made further modifications. Remove the custom ad blocker rule(s) and the page will load as expected.